You can view the news update with gifs on here!
Con-Quest 0.13B is now out for all patrons. 
0.13B adds the graffiti cosplayer Ellie, A new quest featuring her with a reward and a hidden animated version.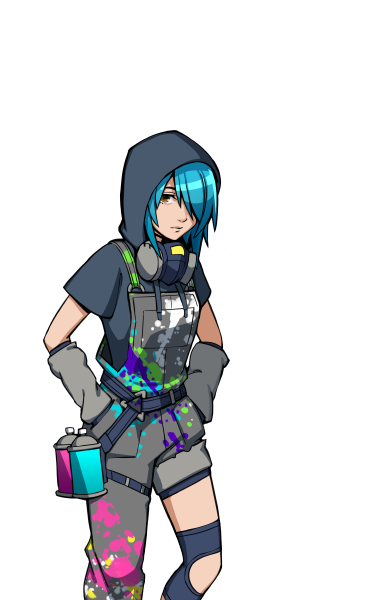 We're making great progress on the next public build, it should be coming out very soon! Worst case, we will have a public release before the end of the year, but we'd like to have it out sooner if possible. 
The second we have an exact date we will let you guys know!
For now, we'd like to clarify some information before the public release of Con-Quest 0.12. We've talked about some of these topics scattered between previous news post but, for clarity's sake, we're going to go over them again.  
We ARE updating the game from the beginning. 
A lot of the game has been redesigned and new mechanics have been added. These include-
· New maps
· New choice system
· Updated combat system
· New questlines
· New CGs
· New inventory system
We felt like it was important introduce these mechanics at the very beginning of the game. With all of these added, the public build is about 90% finished. 
In terms of the story-
The long-term plan is to continue the story FROM the public build. The player will go further into the forest and be introduced to Phoebe. The updates after that will introduce Ivy, Carmen, Michelle, and so on.
If you've played to the latest public update, the story ended on a cliff hanger. We will get to that plotline in the main story again. And it will be finished.
We have a plan for the entire story of Con-Quest, including the ending, and we're extremely excited to tell it!
These future updates will have the player spend more time with individual characters, unlock more cgs, and more rewards with the main cast; Pheobe, Ivy, Carmen, Michelle, and many many more side girls. 
Every girl from Con-Quest Pokecon will eventually show back up in the world and the story in future updates. 
Where's the pokem*n?
Well... A certain company sent us a certain DMCA and we were obligated to change certain iconography and designs. 
None of the characters are gone but their designs will be altered. 
Will my old password work?
Yes. 
All old saves from previous builds WILL work with and new update. 
If you choose to carry over your previous save, you will keep your levels, money, stats, and rewards. 
So does that mean, all the old content is gone forever?
No, all the old builds of the game will stay up, publicly, on Newgrounds. 
https://www.newgrounds.com/portal/view/727705 
We're updating and expanding the existing game. 
While a lot of the game has been redesigned with new mechanics, any reward collected in the older builds will still be carried over into all future updates. Including rewards.
We also have a public Con-Quest discord, where you can interact with other fans and developers!
Everyone on the team is incredibly passionate about Con-quest, and we're working as hard as we can to make it the best game possible. 
Whether you're a patron, a fan of the game, or a hardcore grinder who's played every update, thank you for playing the game! We hope to keep improving and making better and better builds!